UNIQUE GROUP PACKAGES
Are you planning a company or family outing? Or do you want to do something special with a group of friends? Why not come to FNRS Equestrian Centre Bergemo?
We offer a wide range of packages including activities at Bergemo or in the beautiful surrounding countryside, e.g. a covered wagon ride through the Maasduinen National Park, horse riding or games (on or off horseback). We make sure that your day out is a complete success!
We offer the following packages:

You can choose from the activities mentioned above or have us create a bespoke package, designed to meet your wishes. For group requests or more information, please contact us at info@bergemo.nl or +31(0) 485-513194.
---

NEW!
Segway Tour through the Maasduinen National Park combined with a single or double harness carriage
You start off with a nice cup of coffee on the farmstead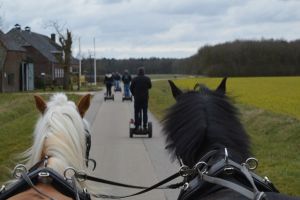 terrace of Hoeve Carpe Diem. Then you get on the Segway to familiarise yourself with the first self-balancing vehicle in the world! After some practice, you will be ready to ride the Segway through the Maasduinen National Park, under the supervision of our staff. A short stop is made at the Quin nature reserve where you can enjoy stunning views across the heath and fens. Children of 16 or over may ride a Segway. For people in the group, who do not want or are not allowed to ride a Segway, we can provide alternative transport, i.e. a horse-drawn carriage! This can be a fun way to engage granny and grandpa or young children in the activity!
Segway Tour prices
The costs involved depend on the number of Segways you want to use and the number of people in your party. Please get in touch to enquire about the possibilities. Segway Tours are organised in close cooperation with www.maasduinentours.nl and www.hoevecarpediem.nl.


Group lesson
Get the whole group on horseback! For some of you it may well be an exciting new experience, never to be forgotten! Afterwards you can share time outside socialising and chatting while enjoying great tasting barbecued food. Please get in touch to enquire about the possibilities.


Covered wagon rides
Would you like to take a ride on a covered wagon to the highest point of the Maasduinen National Park or to the Quin nature reserve? Or do you want your family and friends to be taken to a party venue of your choice? The covered wagon of FNRS Equestrian Centre Bergemo is a fun mode of transport! We also offer a wide range of other possibilities, e.g. an asparagus ride (in season).
Additional information:
Our covered wagons are wheelchair accessible;
Children may sit up front, next to the driver;
Special prices apply to rides of more than 3 hours;
You will be in very safe hands with our experienced driver.

We are happy to provide more information on request. Our regular rides leave at set days and times. Click here for more information. For groups we can provide a bespoke trip! Hacks/treks and covered wagon rides can be combined with a visit to Hoeve Carpe Diem. This authentic farmstead in the Maasduinen National Park is a perfect setting, in which to enjoy a beverage and a bite to eat on the farmstead terrace. See also www.hoevecarpediem.nl.

Country and western games
Legendary are our country and western games (with or without ponies), e.g. ring spearing, horse shoe tossing, relay racing and musical ponies. Great fun for cowboys and cowgirls of all ages! The programme is adapted to age and experience. The price for 1 hour is €11 p.p. and €17,50 p.p. for 1,5 to 2 hours.


Pony walk outs for the youngest
For the youngest we offer a half hour pony walk out during which the child is accompanied by a parent or responsible adult on foot holding the lead rein. Pony walk outs take place in the private little forest of Equestrian Centre Bergemo.


Delicious BBQ or raclette
All this activity makes you feel hungry! What better way to finish the day than a delicious, fully-catered BBQ or raclette meal? Please ask for the possibilities!