OVERNIGHT STAY OPTIONS
We offer several overnight stay options. Groups can sleep on the second floor of the centre's building, above the Foyer- within hearing distance from the horses! Or, how wonderful it is to return to a cottage at Centre Parcs Het Heijderbos after a busy day with the horses! Visit the Jungle Dome or conclude the day in Aqua Mundo! Those who love the peace and tranquillity of nature are, however, best advised to spend one or more nights at the nostalgic farmstead Hoeve Carpe Diem.
Bergemo group accommodation, sleeps max. 20
We offer group accommodation for up to 20 people on the second floor of the centre's building, above the Foyer. The accommodation is basic and consists of dormitory-style rooms with bunk beds and single beds. Sanitary facilities available. Breakfast, lunch and dinner are served in the Foyer and in summer, weather permitting, al fresco eating is available on the terrace.
Hoeve Carpe Diem B&B and farm campsite
Would you prefer to stay overnight in a farmhouse room or on a farm campsite? Then Hoeve Carpe Diem is the place for you! This authentic farmstead is located only a few minutes from Equestrian Centre Bergemo! For more information, please go to www.hoevecarpediem.nl.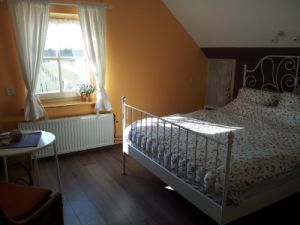 For more information and/or bookings, please contact us.
Center Parcs Het Heijderbos
Or would you like to return to the comforts of a cosy cottage at Center Parcs Het Heijderbos? After a day of horse riding you can enjoy the Parc's subtropical water complex, Aqua Mundo, or visit the Jungle Dome. Het Heijderbos is within walking distance of FNRS Equestrian Centre Bergemo! Are you interested? Please contact us!