STAYING AT CENTER PARCS HET HEIJDERBOS OR A CAMPSITE NEARBY?
OR SIMPLY LOOKING FOR A FUN DAY OUT?
We offer a wide range of activities for holidaymakers and day trippers! Why not take a horse-drawn covered wagon ride or enjoy 'your own pony for half a day'? These and other options are listed below.
We offer the following activities:
---

Pony walk out!
For the youngest we offer a half hour walk out during which the child is accompanied by a parent or responsible adult on foot, holding the lead rein. Pony walk outs take place in the private little forest of Equestrian Centre Bergemo. This walk is also available for adults!
Ages: 3-85 years
Price: €20.00 for a pony, €25.00 for a horse.
Every day from 11.00 a.m. till 3.00 p.m.
Booking in advance required!

Theme rides on a horse-drawn covered wagon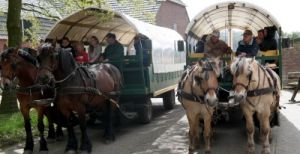 For those who prefer not to mount a horse, we offer various rides on covered wagon through the stunningly beautiful countryside surrounding FNRS Equestrian Centre Bergemo.

All our covered wagons are wheelchair accessible. Booking in advance required. Guests of Center Parcs Het Heijderbos may book at the Center Parcs' reception or with the Center Parcs App. Children under 3 years are free of charge!
Times: Wednesday, Thursday and Sunday. The tours start at 10.30 and last 1.5 hours. The costs are €15,00 per person.



Stable tour
* At the moment it is not possible to take a look at our stables. As soon as it is possible again, we will let you know!
Would you like to know what our ponies and horses eat and where they sleep?
Why not join our stable tour on Tuesday or Saturday?
Tuesday and Saturday at 10.30
Stable tours are free!